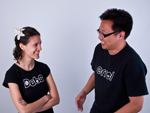 About Debs & Errol
Debs & Errol is a Toronto-based musical comedy duo with a penchant for phở, cuddly tree spirits, and starships.
After meeting through their local chapter of National Novel Writing Month, the two joined forces in 2011 after a mutual friend put out a call for geeky musical acts and have been entertaining audiences with nerdy showtunes and ridiculous on-stage banter ever since. Feedback from their shows has ranged from "cleverness and wit mixed with a healthy dose of cute" and "awesome music talent, fun artistry and accessible geek humor" to simply "adorable."
When they aren't singing odes to Star Wars, BSG, or nerd love, they're knitting or chronicling their life with a daily web comic.
For more information on Debs & Errol please visit the artist's web site at: http://www.debsanderrol.com