We pulled into Dearborn early Friday afternoon, and just in time too; the van had started chugging unhappily about 100 miles out - it felt like two cylinders were missing. Uh oh... but with a show to perform less than 5 hours later, there wasn't time to think about that. The van arrived at the Hyatt hotel - WOW, BIG! - and we were greeted by an enthusiastic & helpful con staff. We soon met with our three colleagues who had been flown up there by the con - Stroganoff, McLummox, and Chronotis (wow, that should be a law firm!) We unloaded our equipment right behind the stage (wow, nice stage!) and proceeded up to our rooms (wow, nice rooms!) I knew we were in for a treat.

I'd been attending science fiction conventions for over 30 years, but this was my first 'Steampunk' con. On a Friday afternoon, attendance hadn't yet gone through the roof, but I began to catch a sense of what this style was all about as I spied an unmistakable throng of con guests gadding about in classic 19th century attire, replete with top hats, vests, pocket watches, a few with canes, a few with mustaches, and of course, the obligatory goggles. (For newbies, goggles are pretty much standard Steampunk issue, they are generally adorned with a gear emblem on the left eyepiece, and they are strapped around one's hat, NOT actually worn on the eyes! Weird...) OK, so this is really a retro fashion trend, I get it! And my own prep for this revealed that it was an easy one to get into, costume-wise - one could either spend a bunch of money at an online store, or simply hit local thrift stores and assemble a costume for pennies on the dollar (which is what most of my crew did!)

The con staff turned out to be amazingly friendly and helpful, and quickly helped us get oriented and into soundcheck at 4pm. That said, they were experiencing PLENTY of technical glitches at that point; video screens were stubbornly black-and-white (not on purpose), there were buzzes and hums coming through the sound system, and the act we were opening for, The Men That Will No Be Blamed For Nothing, were taking a while to get a good stage mix... which was fine as we had plenty to assemble backstage. By the time we got onstage for our soundcheck, we were running up against the opening ceremonies, whose 'Miss Steampunk' contestants had begun milling around backstage in their finery. We got to the point of being happy with our stage mix (famous last words) and headed for our rooms. By this point, other con attendants were very much in evidence; among the top hats, there were ladies in corsets and hoop skirts, dashing 'adventurer' types, and even men dressed as foreign military leaders (I think I even spotted the Kaiser!)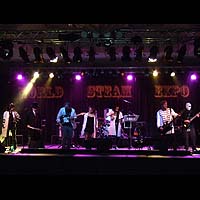 What seemed like just a couple hours later, we were ready to get the show going - but the equipment seemingly wasn't. A stubborn ground loop hum fought back against all my attempt to vanquish it and finally had to be quelled with iso transformers and the sacrifice of Remy's headset mic, the 'samples' channel, and my reverb channel. The front of house couldn't communicate with us onstage, and so I ended up lending them one of our bullhorns (for the entire weekend!) The video was still showing signs of acting up. Would it hold up? Ahhh well, no time for second thoughts, it was showtime. Wish there were more people in the audience! But my friend Dr. Chuck (webmaster of morgus.com) and his wife were in the audience, along with some other friendly faces who had never had the pleasure of seeing us perform live. We started rocking...

...only to have the damned projection video blank out right before the 'big reveal' of the script. COG-dammit! I reset the video computer and it did it again a short while later. Plenty else went wrong too; the Expo's fogger haze almost caused Piper to pass out. The batteries in my keytar went out halfway through 'Doctor Who,' causing the notes to jam. And my Theremin's mic was never apparently turned on either. Ahhh well. We played the best show we could muster under the circumstances and then struck the stage quickly to make room for The Men That Will Not Be Blamed For Nothing. Not a great feeling when things go wrong, but the audience that WAS there said they enjoyed the show. And we still had the rest of the weekend to go... things HAD to get better, hadn't they?