Heavens to Mergutroid!
What a crazy week... I must confess, it's been so hectic, I haven't had time to post anything. Even now, I'm typing this while rendering video backgrounds for the old C.O.G. favorite 'Die Barney Die', which we're performing again tomorrow at the House of Shock. (Last week's appearance was fun and profitable enough, but I'm hoping we get more than one set this week!)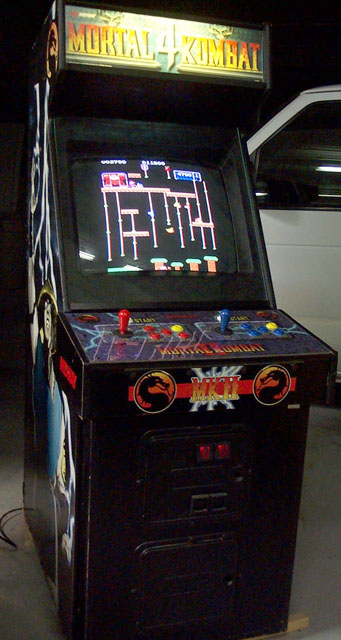 After that I'm delivering my 10th MAME arcade cabinet! The customer, who is the booking guy at The Republic club (who purchased my previous MAME cabinet, and where we're aiming to play sometime soon), has wanted a MAME cabinet optimized for fighting games, and it proved to be a most difficult proposition. It took me several months to acquire another Mortal Kombat 2 cabinet, and another month to settle on a software solution. However, after fighting the software for a while, I finally settled on a 2002 version of AdvanceMAME (this one's about 14MB - most current version has bloated to 40MB!), with ArcadeOS as the front end (natch). This proved to be a nice balance between load times and compatibility. The software runs from an 8GB CF card in a Dell 2Ghz desktop computer. Sound is provided by my usual SB 4810 PCI card (onboard amplification is the way to go.) Control interface is the ever-reliable Ultimarc J-Pac. Thanks to AdvanceMAME's wonderful monitor utility, I was able to get horizontal AND vertical games running quite well on the 25" horizontally mounted Wells Gardner monitor, with tops and bottoms only slightly cut off for titles like Galaga and Pacman. However, this is a small price to pay for such compatibility (and the thrill of playing Robotron on a huge screen! WOW!!!) I think the game's new owner is gonna flip out. He's getting quite a bargain too...

Following tomorrow night's appearance, we're taking a little break to continue auditioning Lab Girl prospects, and work on writing and recording. So - if you want to see us anytime soon, come out to the House of Shock Sunday night!