FuMPFest 2016 2-CD Set Now Available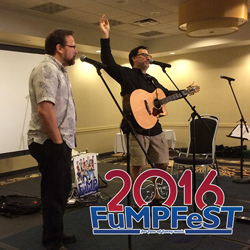 FuMPFest 2016 was an amazing time with some fantastic artists and we recorded the whole thing! Now, we have taken some of the best parts of the event and compiled it into a 2-CD set to help us raise money for this year's event.
This compilation, available as a 2-CD set or a digital download, contains 60 tracks and roughly 2.5 hours of music and comedy. And when you purchase the CDs you get the digital download immediately as well.
Hear live performances by Paul and Storm, Worm Quartet, 2D6, Megathruster, The Library Bards, Seamonkey, Carrie Dahlby, and many more. All proceeds from the sale of this album go directly to help us fund FuMPFest 2017, so please pick up a copy and help us spread the word so we can continue to produce this amazing event for you!