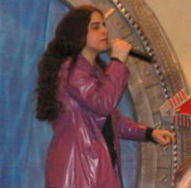 About DJ Particle
DJ Particle is an openly lesbian comedy and satire music DJ and performer who bills herself as the "RIAAcidal Lesbian Parodist".

She has been the host of "Revenge of the Particle" and the "Mad Music Dementia Top 20" streamcasts, which have since been merged into one show "Mad Music Top 20 Revenge". The show has flagship affiliates in Dementia Radio and MadMusic.com.

Since 1983, after first hearing of Dr. Demento, she has been trying her hand at writing parody lyrics of popular songs, much like "Weird Al" Yankovic (her original inspiration) or the great Luke Ski (who she counts as her current inspiration). Although she has not released any of her lyrics from that far back, she has released lyrics that she wrote as early as 1987.

In December 2005, she started recording some of her parody songs which later appeared on her first album Shiny Round Thing Inside.

She has performed as an opening act for Sudden Death at Marscon 2006, as a featured performer at Marscon 2007, and as the host of the Dementia Fan Showcase since Marscon 2008. She was also a featured performer on the Minneapolis stop of the 2007 "Over The Rainbow" tour organized by synth-pop artist Lolly Pop.

She is also an club-style DJ, having done short DJ shifts at the former Club Semesters in Ithaca, New York (under the training of DJ Vinny Marrero of TC Music) and Ithaca College radio station WICB in the fall of 1994, and having released a CD-length set in 2005, and numerous mash-ups, most of which appear as freebies on her website. Currently, she spins the afterparty for the popular "Club Trix" event on World of Warcraft.
For more information on DJ Particle please visit the artist's web site at: http://www.djparticle.com/