The FuMP Volume 80 Now Available
by Devo Spice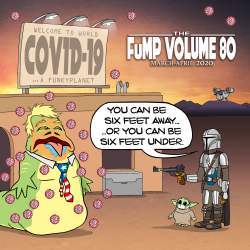 The FuMP's first album of the apocalypse is here! During the course of the production of this album the entire world shut down. But we kept going, and, as expected, produced a whole slew of songs about what has been going on.
Steve Goodie was the first to talk about the End Times. He was quickly followed by pandemic related songs by Devo Spice, Robert Lund and Spaff.com, Carrie Dahlby, and Lauren Mayer.
But don't worry, there's plenty of nerdy humor here as well, including not one, but two songs about Baby Yoda from The Mandalorian—one from the great Luke Ski and one from Beth Kinderman. And then Mikey Mason had to go and do a song featuring every D&D enemy ever, or thereabouts.
FuMP 80 also includes an exclusive video showing how members of The FuMP are dealing with the quarantine. Some of them are definitely handling it better than others.