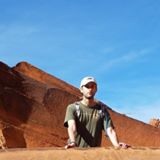 I don't like writing bios.
With that said, here is where I will try to do it anyway.
Been writing song parodies for a long time. Feels like a long time to me, anyway. I got at least kinda serious about it in high school, almost (shudder) 25 years ago. Throughout college and the years after, I wrote hundreds of parody songs, and probably got significantly better as a lyricist after college. However, I did not improve much as a singer and can't play instruments at all, so not much happened with my lyrics.
Fast forward to 2020, when I hadn't been focusing as much on lyrics since I'd been writing fiction. I was also not spending nearly as much money on recreational activities due to the pandemic. So it seemed worth a shot to invest in having backing tracks made to maybe make some recordings which wouldn't be automatic copyright violations. And I made something worth putting on the Sideshow, but that seemed to be it for this recording experiment. But then my friend Rebecca introduced me to her friend Melissa, and we made a song together.
People seemed to like this song, including the people who make FUMP-related decisions. And this inspired me to get an entire album made with (mostly) anonymous guest vocalists. Four of them have been on the front page, so maybe these turned out okay. Certainly a lot better than when I tried to do them myself.
For more information on Ethan Mawyer please visit the artist's web site at: https://ethanmawyer.bandcamp.com/releases