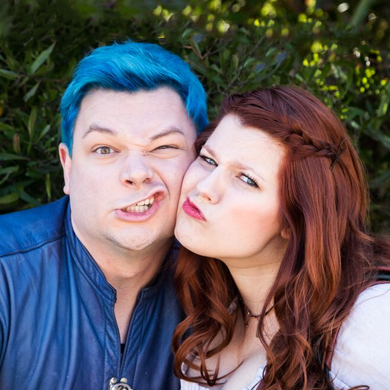 The Library Bards are excited to share a track off of their newest full album, BomBARDed!

It's no secret that the Bards are big Trekkies (See: "Now You Have The Bridge, Spock" ), but this time we're here to celebrate the incredible Klingon Empire! Qapla'!
Klingon is the next track released off of their latest album BomBARDed. The Library Bards honor your families, and hope that the squeals of Xander's falsetto ring out into Sto-Vo-Kor and beyond. Catch both Bonnie and Xander on the live Star Trek RPG Show "Clear Skies", airing live on QueueTimes Monday nights at 6:30pm Pacific! Follow along on Twitter by searching the hashtag #ClearSkiesRPG

Special thanks to our Patrons for sticking with us during the album-making process, including many members of the FuMP! We love hearing your feedback, so join on up and let us know what you think, and get in on that sweet, sweet behind the scenes content!
To keep up with the Library Bards, make sure to follow them all over the internet!
Twitter
Facebook
Instagram
Library Bards are:
Bonnie Gordon
Xander Jeanneret


Copy the code below and paste it on your web site, blog, or anywhere you can input HTML to share this song.