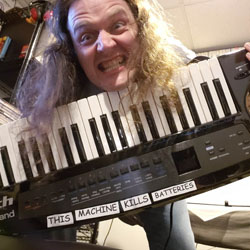 The concept is thus: We, the tech geeks, the programmers, the engineers, the scientists, are Prometheus, bringing fire to the ungrateful masses. They, the ungrateful masses, use the very technology we've provided to suggest on the basis of....*waves hands around*... that the moon landing was fake, the earth is flat, and vaccines contain gay autistic Muslim nanobots who want to take our guns.

When I was a child, if I misused a toy, it was taken away from me. I fail to see why the same concept shouldn't apply here.

This song required me to rap, and since I don't do that a lot, I wasn't aware that if I wrote too many words I wouldn't necessarily be able to say them all because breathing is a thing. Hence, the lovely mouth noises of Devo Spice (a fellow programmer by day and crusader against dumb) provide the 2:00 to my 10:00 on the panning knob.

This is probably the most cathartic thing I've ever written, and while I doubt it'll change any minds, I hope the choir enjoys the sermon.

Vocals: ShoEboX and Devo Spice
Music, Production, Backing Vocals, Choir: ShoEboX
Mastered for The FuMP by Devo Spice
Written by ShoEboX

Copy the code below and paste it on your web site, blog, or anywhere you can input HTML to share this song.